Regular price
$29.95 AUD
sale price
$20.95 AUD
Unit price
per
sale
Sold out
Sustainashop's reusable stretch lids are manufactured from sand-derived, 100% food-safe silicone making them the ideal zero-plastic alternative to standard single-use coverings like cling wrap.
These Eco-Friendly Stretch Lids are made from super-strong silicone. Since they are round, they can be stretched comfortably to any shape and also fit over odd-shaped containers snugly. Use them in your kitchen or gift them to someone that cares about the planet as much as you do.
Strong and Sturdy Reusable Stretch Lids Set

These silicone food covers help reduce your kitchen's food waste because they provide an airtight seal, and fit perfectly on fruits, vegetables, and bowls of various shapes and sizes. All the reusable silicone lids have thicker grooves along their edges, which ensures optimal seal function without affecting pliability. You can use these on various types of containers without worries about leakage or spillage. You and the planet will love our plastic-free reusable stretch lids.
Includes

6 x Silicone Lids (6.5cm, 9.5,cm, 11.5cm, 14.5cm, 16.5, 20.5cm)

USAGE:
1. Choose the appropriate lid for your container.
2. Ensure all surfaces in contact are clean and dry.
3. Place the lid over the edge closest to you.
4. Stretch the lid over the container and pull tabs to ensure a tight fit.
Features

Freezer, microwave, dishwasher & oven safe up to 220°C ✔
Non-toxic & BPA free ✔
Flexible & durable ✔
Plastic-free ✔
Clear silicone- making it easy to identify contents ✔
FDA approved food-grade silicone ✔
Airtight, Leak-proof seal (ensure all surfaces in contact are clean and dry) ✔

* Although these lids are not biodegradable, they are recyclable after a lifetime of use through Terracycle or by contacting your local council for more information *
Benefits

Never buy single-use covers ever again ✔
Generate less food waste ✔
Carbon-neutral shipping using 100% plastic-free satchels ✔
Share
View full details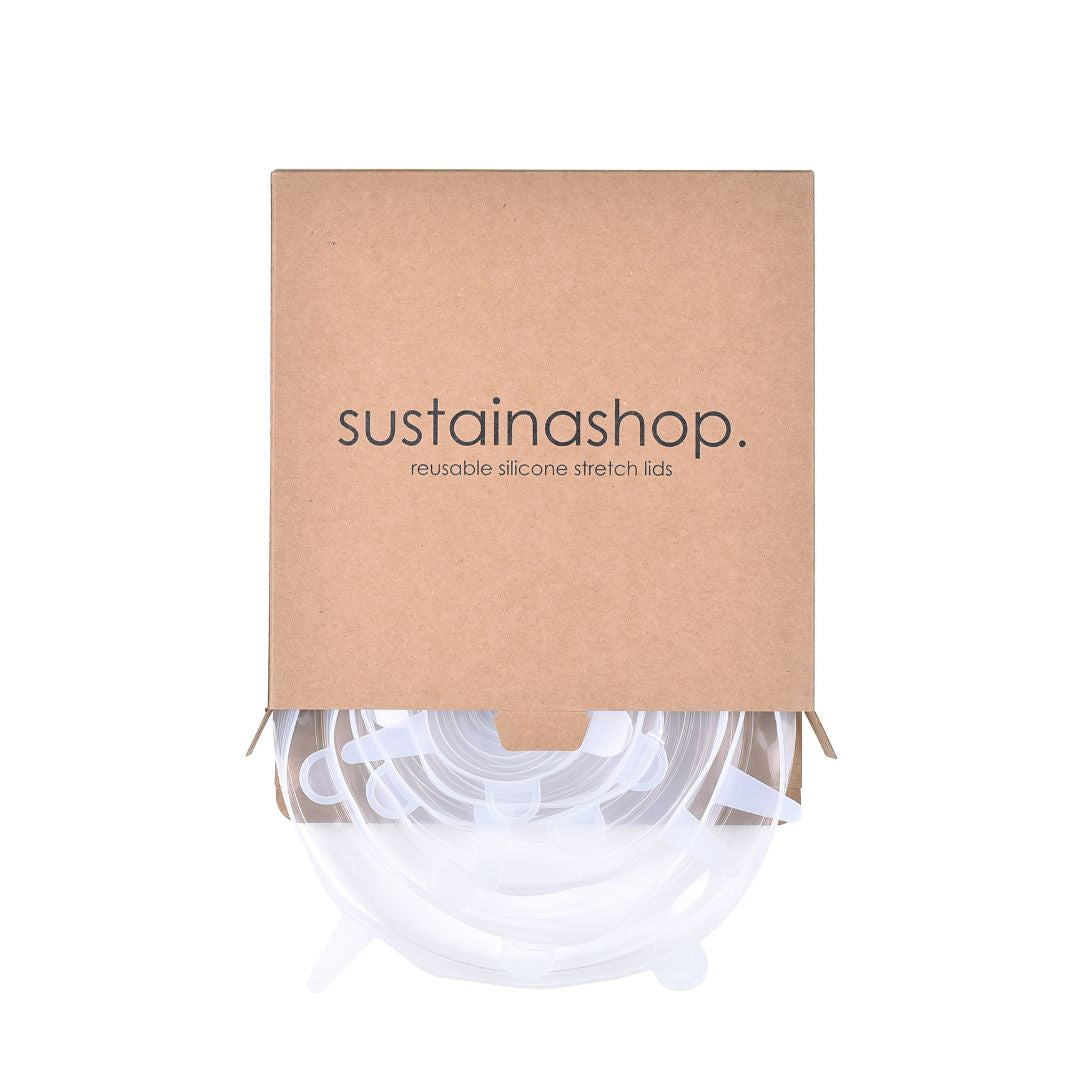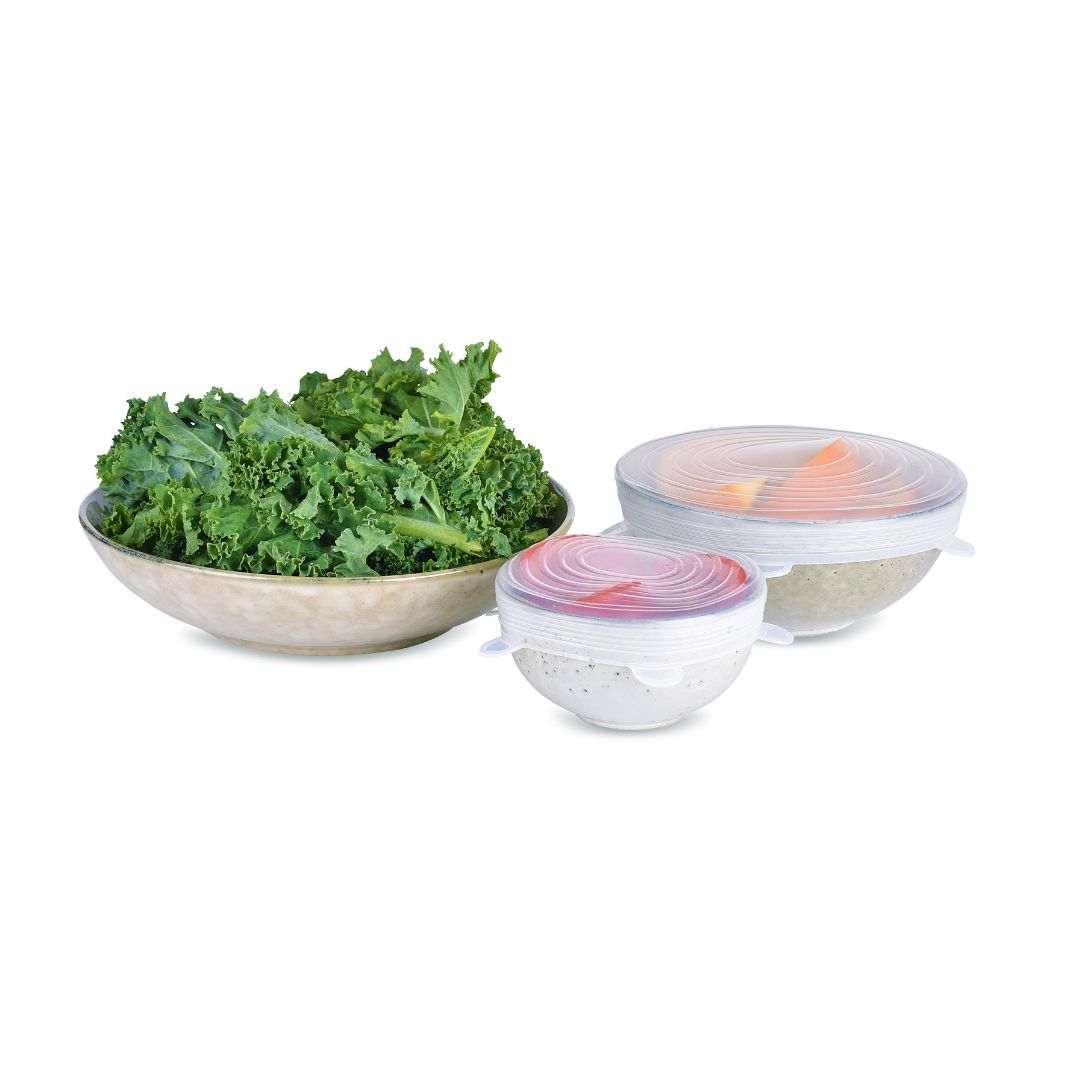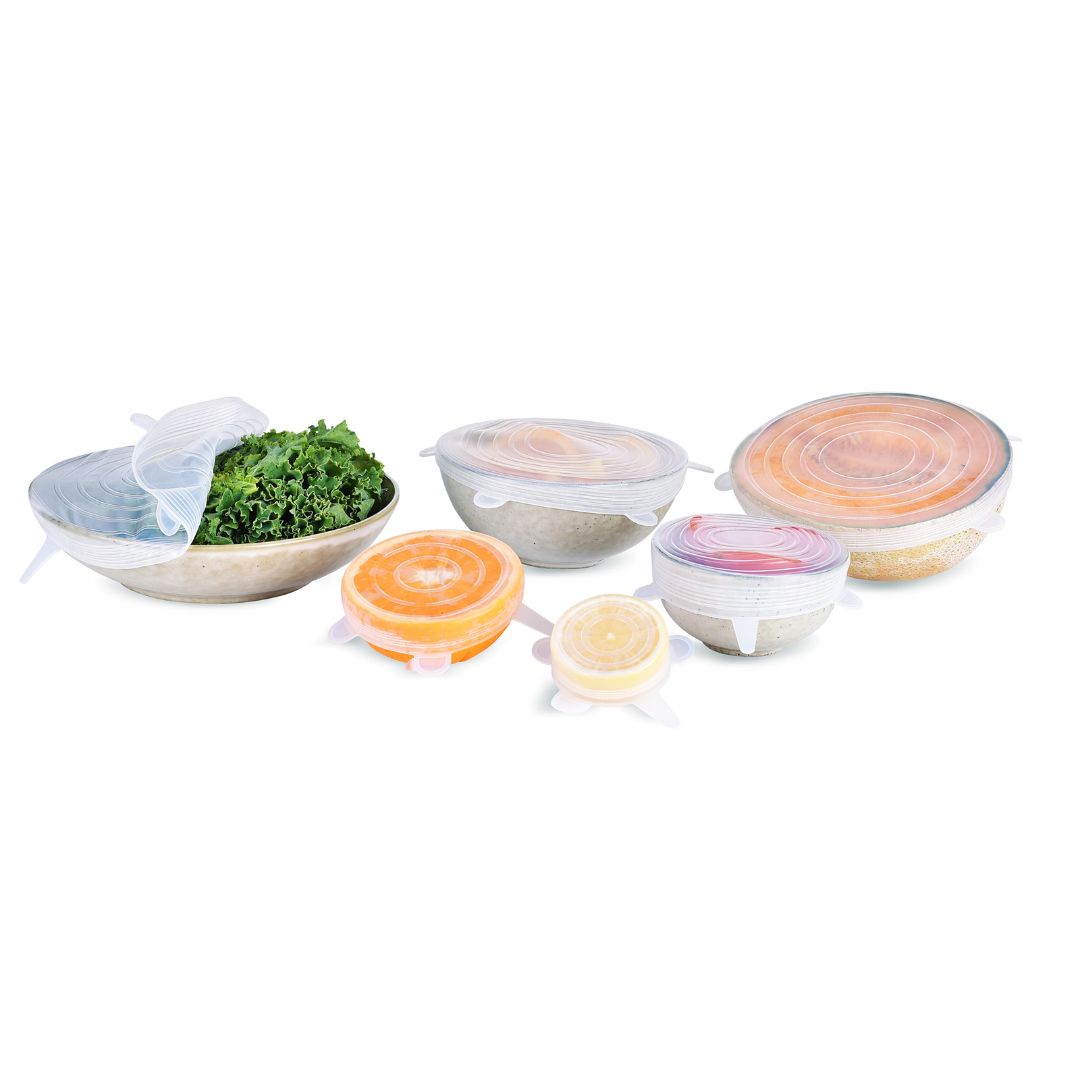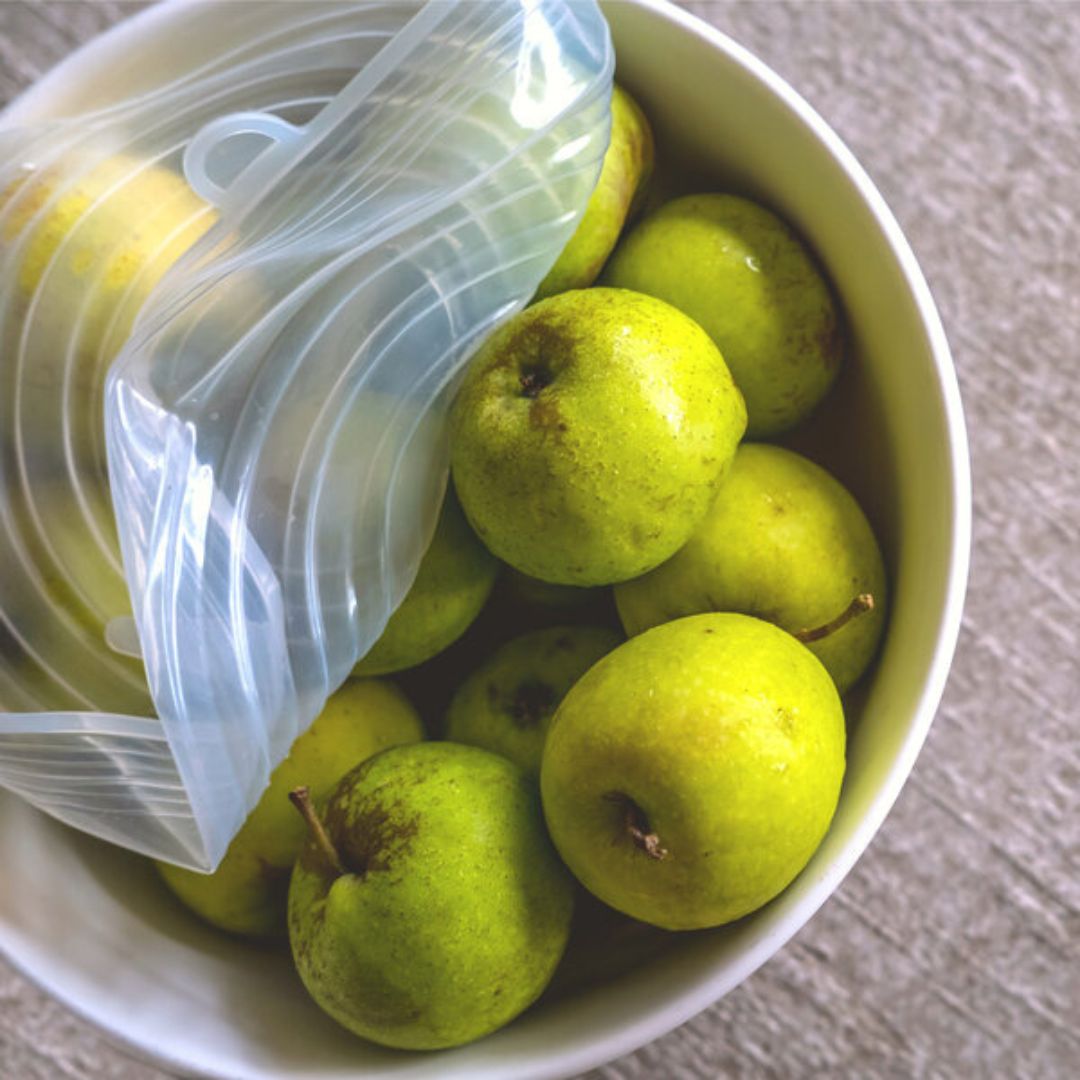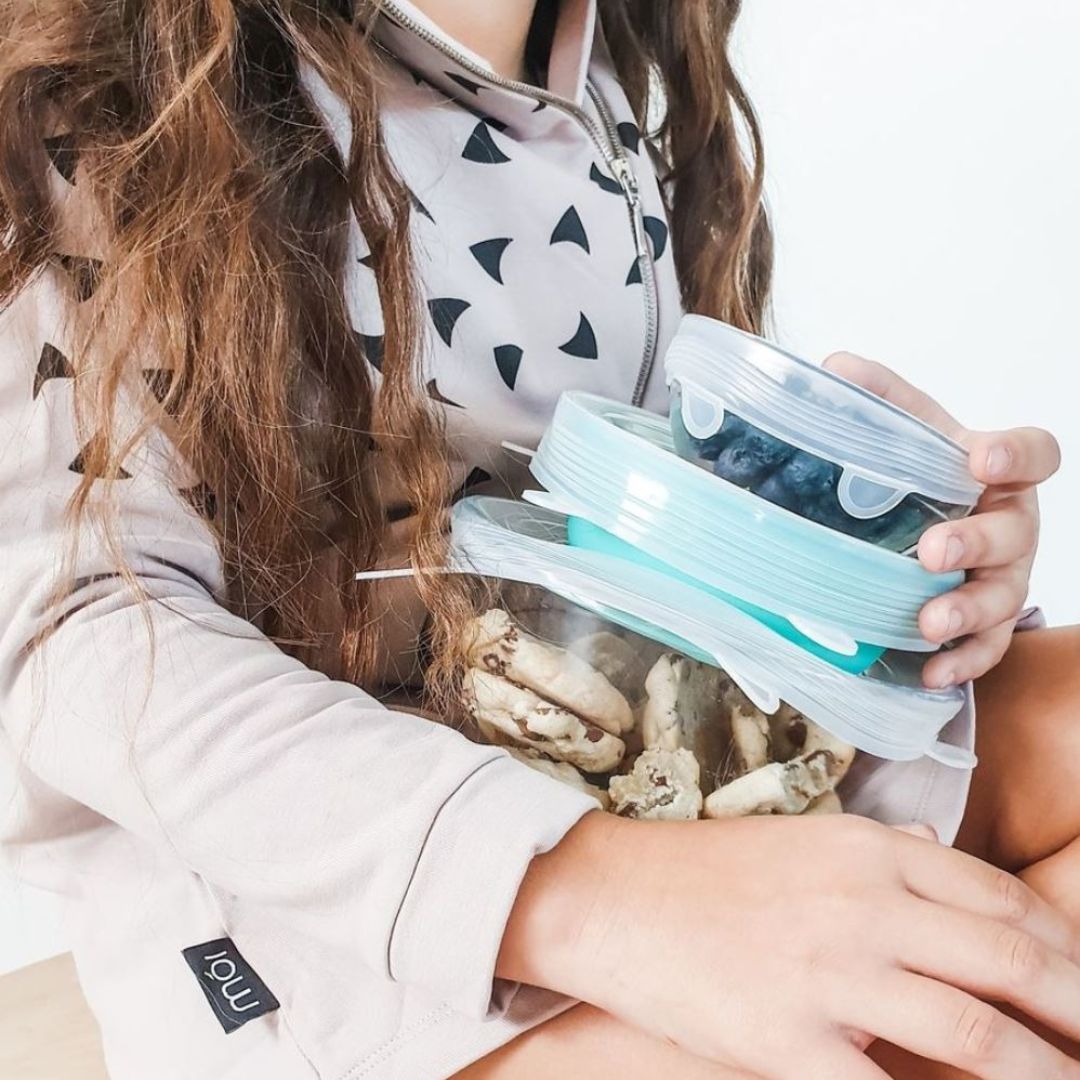 Why switch to Silicone based products?
Our sand-derived silicone products are an excellent alternative to single-use coverings such as cling wrap or ziplock bags as they are extremely durable and significantly more ocean-friendly than plastic.

No need to ever buy single-use covers ✔
Reduce food waste ✔
Flexible and durable ✔

The planet will thank you for it.