Regular price
$29.95 AUD
sale price
$20.95 AUD
Unit price
per
sale
Sold out
Sustainashop's reusable food pouches are manufactured from food-safe silicone. These eco-friendly silicone food pouches are an excellent alternative to standard single-use zip-lock bags and containers that pollute the environment. The airtight closure of these pouches will keep your produce fresher for longer, reducing food waste in your kitchen.
Microwave and freezer safe, they can be used for both solids and liquids. Use them to store veggies, soups, curries, frozen meat, frozen fruit and more. You can also use our airtight reusable food pouches as on-the-go lunchboxes. They roll very small and fit easily into your bag to carry lunch to work.
These reusable squeeze pouches are also microwave safe. Simply take them out of the fridge and pop them into the oven to reheat a meal quickly with the least amount of fuss and mess. Since they are made of clear silicone, the contents are identifiable at a glance. This reusable Ziploc bag is handy, food-safe and eco-friendly- what more could you ask for.
Includes

1 x 1500ml Reusable Silicone Food Pouch
1 x 1000ml Reusable Silicone Food Pouch

USAGE:
Once the food pouch is full, simply slide the ziplock bar along the top of the pouch, ensuring you follow the arrow direction shown on both.
To clean, simply turn inside out and handwash or place in the dishwasher, if food staining occurs, simply soak in baking powder & water.
Features

Freezer, dishwasher & microwave safe (ensure ziplock is removed when heating) ✔
Non-toxic & BPA free ✔
Flexible & durable ✔
Clear silicone- making it easy to identify contents ✔
FDA approved food-grade silicone ✔
Airtight, Leak-proof seal ✔

* Although these lids are not biodegradable, they are recyclable after a lifetime of use through Terracycle or by contacting your local council for more information *
Benefits

Never buy single-use storage containers ever again ✔
Generate less food waste ✔
Carbon-neutral shipping using 100% plastic-free satchels ✔
Share
View full details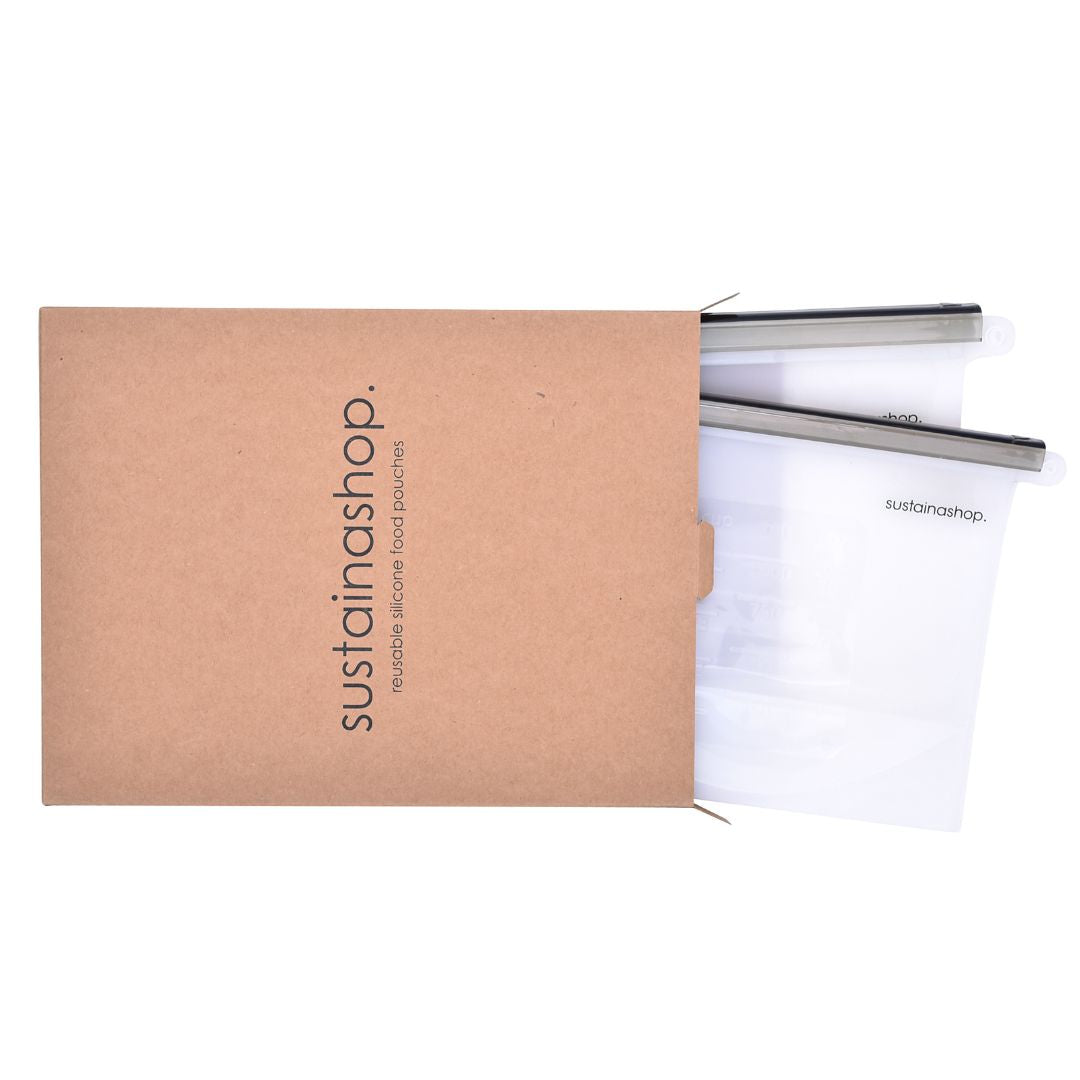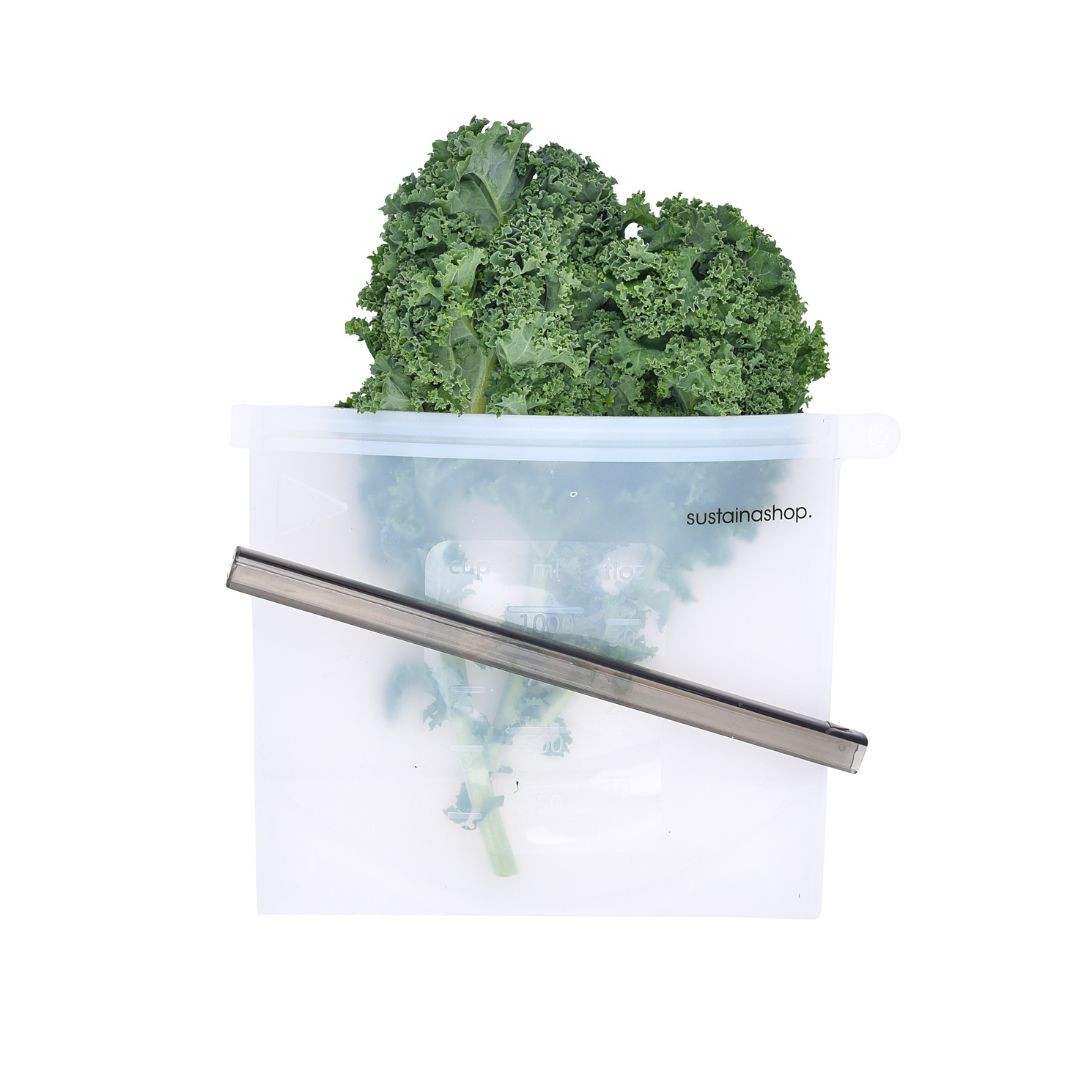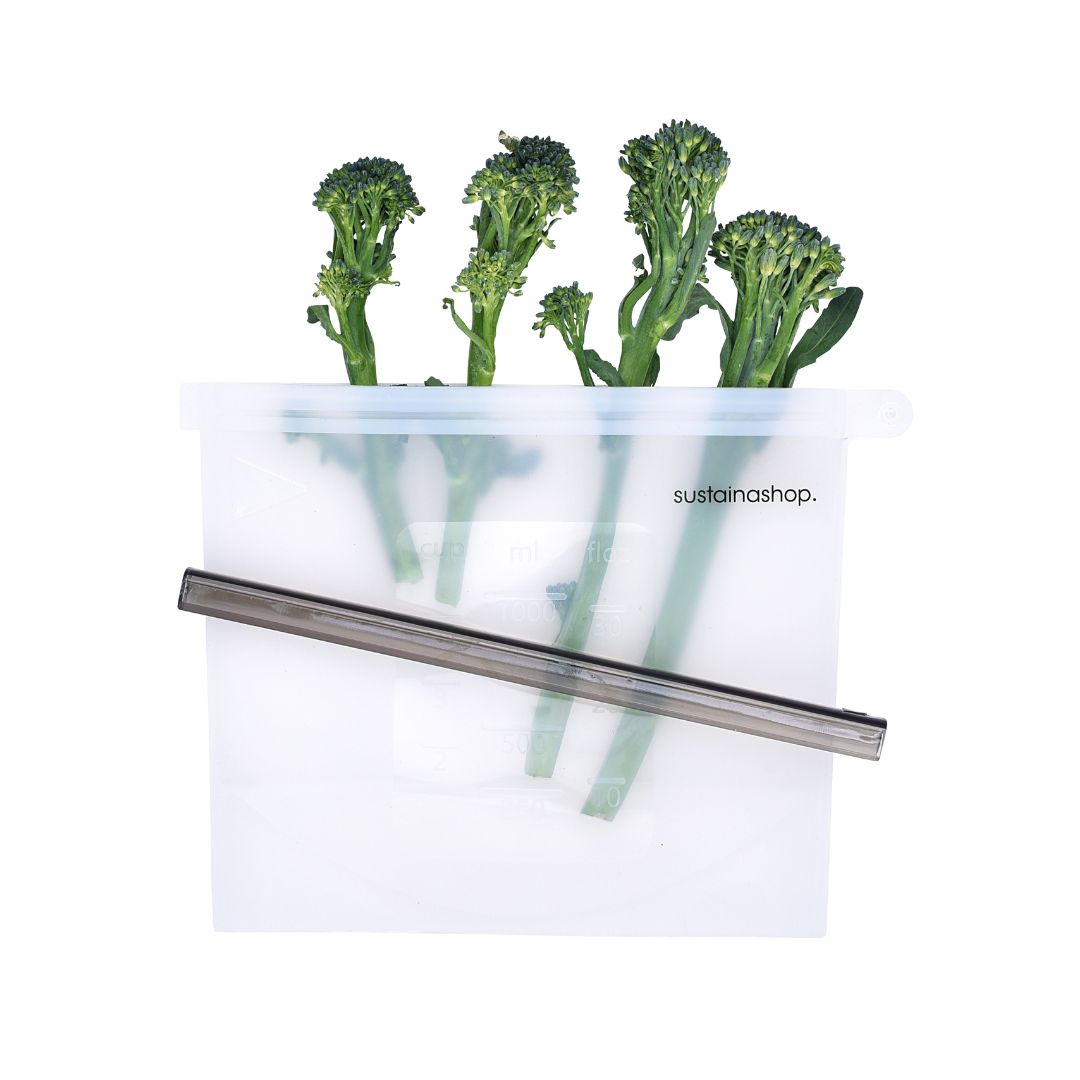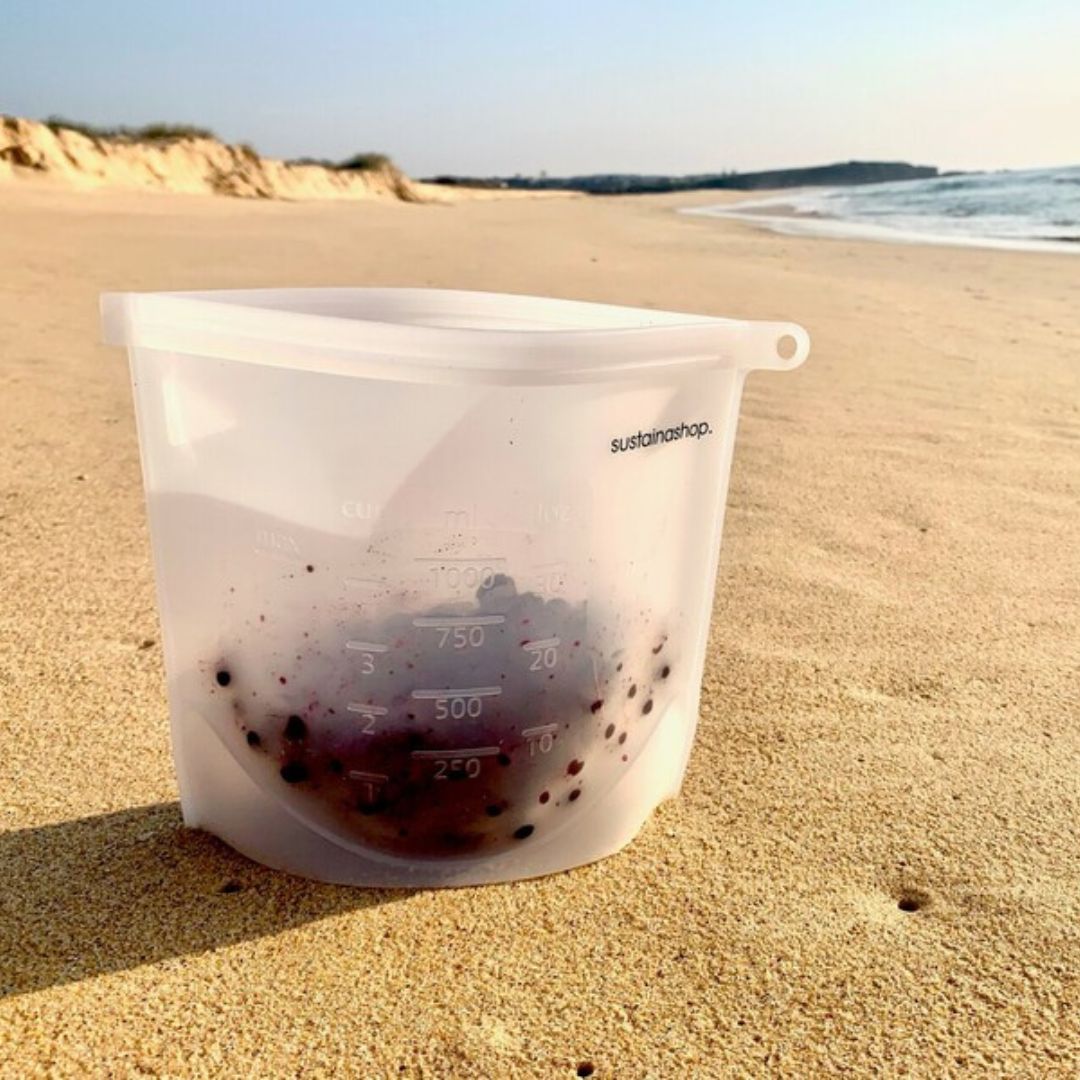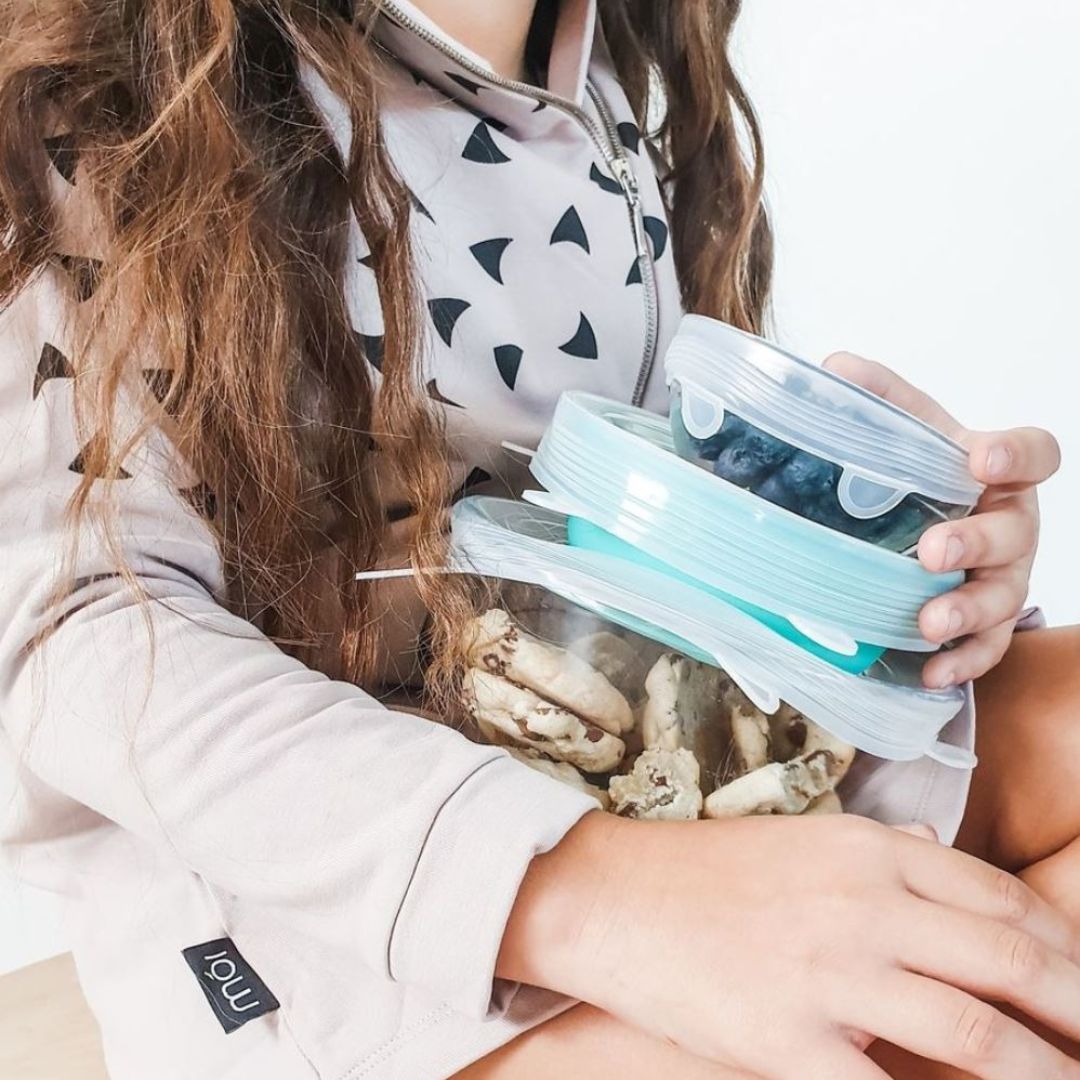 Why switch to Silicone based products?
Our sand-derived silicone products are an excellent alternative to single-use coverings such as cling wrap or ziplock bags as they are extremely durable and significantly more ocean-friendly than plastic.

No need to ever buy single-use covers ✔
Reduce food waste ✔
Flexible and durable ✔

The planet will thank you for it.